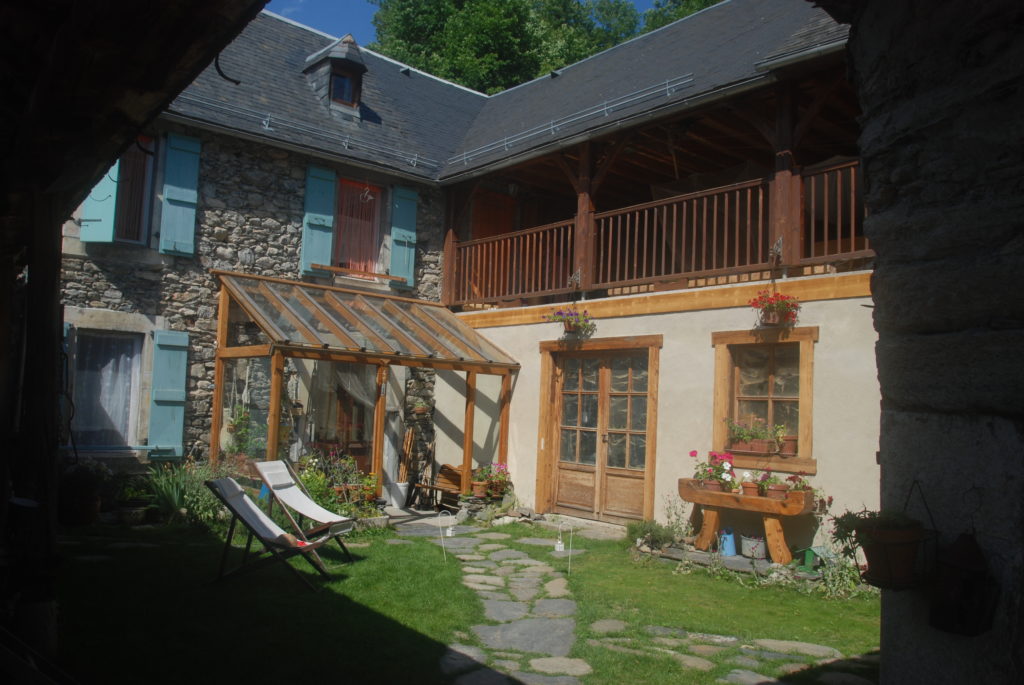 In front of the doors of the Pyrenean National Parc, in Vallée d'Aure
At 4 mn. from Saint Lary, and nearby the ski stations of Piau Engaly, Val Louron and Peyragudes,
Here is "The Soubiau", a pyrenean farm with enclosed courtyard.
Generations of mountaineers, shepherds and farmers have lived in this farmhouse dating from the 18th century. Their lives were measured by the different farm work, such as taking the animals to the mountain pastures or collecting the hay. Cows, sheep and pigs shared the courtyard with chickens and even rabbits.
One of the courtyard buildings was the old bakery, housing a fireplace large enough to roast a pig, and a bread oven that is still used today.
We bought this house 30 years ago, adapting the farm to our family needs and professional requirements, but retaining the features and charm of its former life.
We would be delighted to welcome you to our home, to share life with us here for a few days. We offer a room throughout the year, and two rooms in the summer.
We have set aside part of the house for our guests, separated from our quarters by a door. Access is via stairs from our communal living room, where you can share breakfast with us.
The guest accommodation includes a spacious bedroom, with king-size bed and optional extra bed, private bathroom, with twin basins, bath and wc, plus a hallway with comfy reading chair.
Our sunny courtyard is a lovely place to sit and relax.
There is a second bedroom in the attic wich is spacious and bright with king-size bed and optional extra bed. The bathroom, located between the room and a small room which is a possible sequel with great, has a sink and shower.
We don't provide "Table d'hôtes", but there are many restaurants in the valley where you can enjoy local cooking.
Bed & Breakfast rate : 72 Euros per couple per night.
Christine and Loïc LECLERC
Village
65170 GUCHAN
Hautes-Pyrénées
FRANCE
You can reach us on the following numbers : +33 6 72 61 27 69